Atari Casino in Decentraland is a revolutionary intersection of nostalgia and innovation. Situated in Vegas Plaza at -95, 110 coordinates, this casino marks Atari's foray into the world of decentralized casinos. Let's explore the unique elements that make Atari Casino a game-changer in the metaverse scene.
Decoding the Location: Atari Casino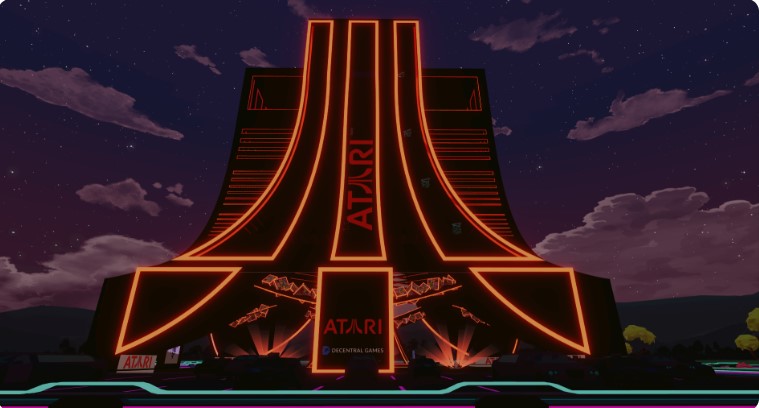 Atari Casino is not just any virtual casino; it's a towering structure modeled after the iconic Atari logo. This capital 'A' shaped edifice stands tall in Vegas Plaza, making it an unmissable sight in the Decentraland metaverse. Navigate to the specified coordinates or walk using the WASD or arrow keys after creating your avatar and connecting your wallet. With its neon-infused design and pink/mint pathways connecting it to other venues, the three-level building is a nod to the classic arcade gaming scene.
Your First Steps in Atari Casino
The first step to immerse yourself in the Atari Casino experience is to join the Decentraland virtual world.
Visit Decentraland.org and choose whether you wish to engage via the desktop app or your browser. The application doesn't yet support smartphone usage due to the high graphic demand. However, VR support is speculated to be on its way.
Next, connect your wallet. It's essential to create a wallet and connect it to Decentraland to experience metaverse gambling fully. Supported wallets include MetaMask, Coinbase Wallet, WalletConnect, and Fortmatic.
Afterward, create an avatar, which serves as your virtual representation in the metaverse. Accessories and even NFT options abound to customize your avatar.
Once your avatar is ready, step into the metaverse. Keep in mind that the site may take a moment to load all the elements necessary for smooth interaction.
Finally, choose your game and start playing.
A Glimpse into the Casino's Interior Design
Atari Casino's interior design takes you on a journey down memory lane with a futuristic touch. The dominant red and black tones combined with the red net offer a neon-like ambiance that harks back to the 80s arcade gaming scene.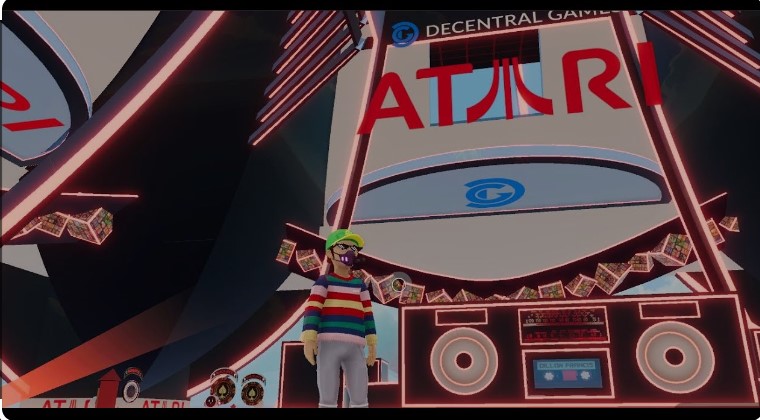 The open-space design of the bottom floor welcomes players from everywhere, making it a perfect space for parties and other social events. A spectacular Dillon Francis party launched the venue on April 28, 2021, featuring a prize pool of ATRI tokens and unique NFT art auctions. Furthermore, the casino houses a mini-exhibition of four impressive NFT artworks, reinforcing the venue's dedication to promoting digital art. The casino's upper two levels offer a more private gaming experience and spaces for player interaction. Teleporters effortlessly transport players between the floors.
Gaming Options at Atari Casino
Atari Casino, one of the newest entries in the Decentraland metaverse, brings a fresh and innovative take on casino gaming. As of late 2022, the casino is undergoing a major overhaul. With Atari's vast history in the gaming industry, it's exciting to think about the potential this brings for new game developments.
The Upcoming Revolution in Atari Casino Games
Atari has announced that it is in the process of developing blockchain-compatible casino games, with an aim to launch them before the end of 2023. While the exact form of these new games is yet to be revealed, there is immense anticipation around what Atari might introduce given its reputation for innovation. Previously, the casino offered a range of games including blackjack, roulette, and Atari-themed slots. While these games are temporarily unavailable due to the ongoing rework, the expectation is that the new games will offer an even richer and more immersive gaming experience. The diagram above gives a snapshot of the expected gaming landscape following Atari Casino's ongoing revamp. Stay tuned to see what exciting new offerings this update will bring.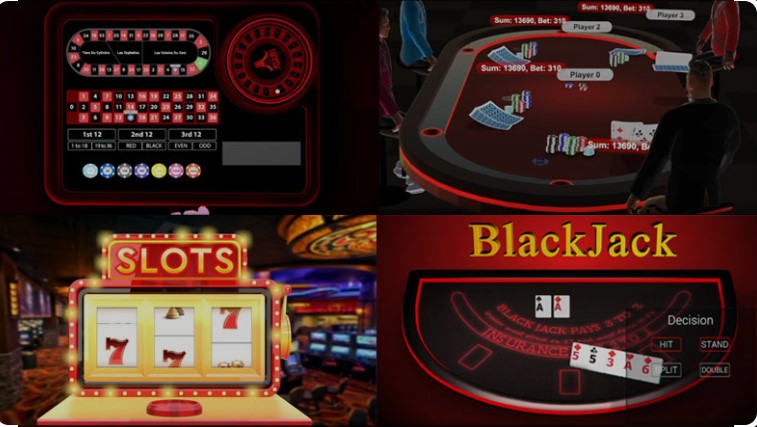 Atari Blackjack and Cryptocurrency
One of the notable features of Atari Casino is the support for various cryptocurrencies including PLAY, DG, MANA, and Atari's proprietary crypto, ATRI. This comprehensive crypto support extends to all games including Atari blackjack, allowing players to enjoy their favorite games using the currency of their choice. The introduction of ATRI, an ERC-20 token built on the Ethereum platform, has been a significant development. Developed and launched by Atari, ATRI serves as the proprietary token for the casino. Its price has been relatively stable, suggesting a promising future for its use in the casino and other potential projects.
Atari VR Casino Bonuses: A Comprehensive Guide
In the burgeoning realm of virtual reality (VR) casinos, Atari Casino stands as a unique, pioneering platform. Central to its appeal is its attractive offering of bonuses. These bonuses not only provide an added layer of excitement and potential earnings but also serve to entice newcomers to the platform and reward loyal players. Let's delve into the types of bonuses that are on offer at the Atari VR Casino.
Welcome Bonus
The Atari VR Casino Welcome Bonus is designed to attract new players and provide them with a head start. Players who sign up and make their first deposit will receive a bonus, typically a percentage of their initial deposit. This bonus is usually available for immediate use in the casino, allowing new players to engage with games without using their own capital initially.
Deposit Bonuses
Beyond the initial welcome bonus, Atari VR Casino offers deposit bonuses to its players. These bonuses come into play when you make a deposit of a certain amount, at which point the casino tops up your balance with a percentage of your deposited amount as a bonus. This bonus, like the welcome bonus, encourages players to deposit and play, offering extra value for their money.
No Deposit Bonuses
No Deposit Bonuses are one of the most attractive bonus types offered by Atari VR Casino. As the name implies, these bonuses do not require a deposit from the player. Instead, they're usually awarded to players for completing certain actions, such as signing up, referring a friend, or participating in promotional events. No Deposit Bonuses provide a risk-free way for players to try out the games on offer.
Loyalty Bonuses
In a bid to reward its most dedicated players, Atari VR Casino has a comprehensive loyalty program. This program provides a range of benefits, including Loyalty Bonuses, to players who frequently engage with the casino. The more you play, the more loyalty points you earn, which can be redeemed for various bonuses and perks.
Special Event Bonuses
Atari VR Casino often hosts special events and promotions, during which players can earn extra bonuses. These can take many forms, from tournaments with prize pools to timed events where players compete to achieve certain objectives. These bonuses add a level of excitement and offer great rewards to participating players.
Crypto Bonuses
With Atari VR Casino's support for various cryptocurrencies, it's only fitting that they offer specific bonuses related to crypto. These could include increased deposit bonuses when using certain cryptocurrencies or exclusive rewards for users of Atari's own ATRI token.
Remember, while bonuses provide extra value, they also come with certain requirements and restrictions, such as wagering requirements. Always make sure to read and understand the terms and conditions associated with each bonus to fully enjoy your gaming experience at Atari VR Casino.
Seamless Transactions with Cryptocurrencies
Atari Casino offers a wide range of cryptocurrencies for transactions, including PLAY, DG, MANA, and ATRI. ATRI is an ERC-20 token developed by Atari, serving as their proprietary token. Its usage in future projects and its relatively stable price make ATRI a popular choice among players.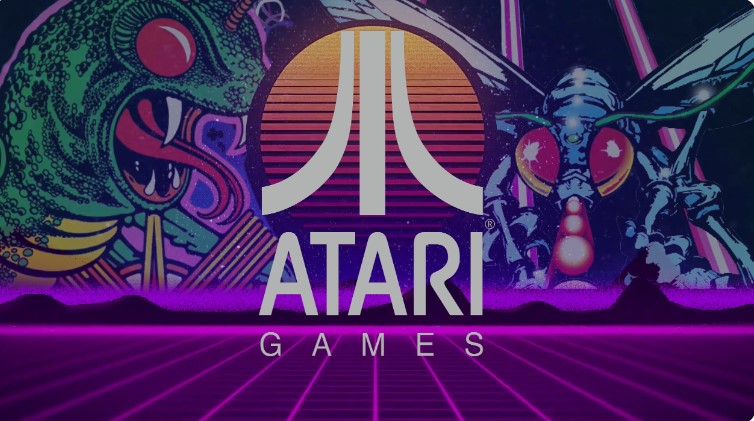 Unique Features of Atari Casino
Atari Casino's multi-purpose design sets it apart. The ground floor boasts a DJ booth for live-streaming music performances. Furthermore, regular social events contribute to the venue's lively atmosphere. Upcoming shows and exhibitions can be found on Decentraland's and Atari's social media pages. Additionally, the operator holds exclusive rights to Atari IPs, paving the way for a host of nostalgia-inducing slots and other Atari-themed games in the future. With these exclusive rights, players can look forward to a unique gaming experience that blends the classic arcade appeal with modern technological advancements.
An Exclusive Atari Casino Experience
Unlike most other decentralized casinos, Atari Casino isn't a new brand. It carries with it a rich history that resonates with players. Its commitment to combining socializing with gaming creates an atmosphere that is as entertaining as it is competitive. Atari Casino's design devotes substantial space to socialization, setting it apart from other metaverse casinos.In addition, Atari Casino stands out for its active support for ATRI, Atari's proprietary crypto. This support extends to all tables and slots, allowing for a seamless gaming experience.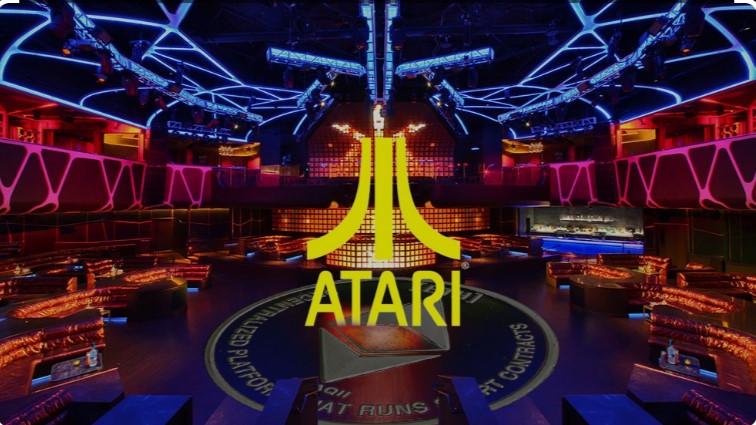 Conclusion
Atari Casino represents a unique evolution in the world of metaverse gambling. Its plans to introduce blockchain-compatible casino games demonstrate a commitment to combining the best of the gaming industry's past, present, and future. Whether you're a fan of traditional casino games like blackjack and roulette or are excited to try the forthcoming Atari-themed slots, Atari Casino offers a gaming experience unlike any other.
FAQs
What is Atari Casino?
Atari Casino is a virtual gaming venue located in the Decentraland metaverse. It combines traditional casino gaming with a unique, immersive experience, offering an exciting twist on online gambling.
What games does Atari Casino offer?
Previously, the casino offered blackjack, roulette, and Atari-themed slots.
What cryptocurrencies does Atari Casino accept?
Atari Casino supports several cryptocurrencies, including PLAY, DG, MANA, and ATRI. ATRI is Atari's proprietary cryptocurrency and is an ERC-20 token built on the Ethereum platform.
What makes Atari Casino unique?
Atari Casino combines traditional casino gaming with the immersive, interactive experience of the metaverse. The casino is designed with a futuristic, arcade-themed aesthetic that pays tribute to Atari's rich gaming history. The forthcoming introduction of blockchain-compatible games promises to take this unique gaming experience to new heights.